My Old Mixed Media Art – Embarrassing? Yes! Worthy? Also Yes!
It's only in the last year or so that I started to feel confident in my art. I have been seriously working on my art for a solid 5+ years now, so it surprises me sometimes that it took that long.
But then again, it takes as long as it takes. Just like any other hobby, sport, or new endeavor, you can't expect to be an expert right out of the gate.
I had a lot to learn about supplies, techniques, styles, and basic skills. A lot of those things, I tried to teach myself because I didn't know any other way. Then I progressed to books, videos and online courses. It wasn't until I started studying painting with a professional artist that my work really began to improve.
I would say if you can take an in-person class or find a mentor, DO IT. That type of learning is valuable. But if that's not possible, you can definitely learn on your own. I guess I'm just one of those people that does best with in-person instruction.
Remembering Where We Used to Be
I think a lot about the past 6 or so years now that it is 2020. I've finally started to feel comfortable about where I am at artistically.
Before, I struggled so much to create art while lacking some really basic skills.
I wondered if I would ever find "my" style.
The thought of showing my art was scary because I didn't want to be judged. My biggest fear was that it was amateurish or cartoony, because IT WAS.
It totally was.
And I'm okay with that now because it was all part of learning and improving.
When I first discovered mixed media art in about 2008, I was fascinated with the concept of sticking different kinds of materials to a canvas to create art. A lot of what I did was more abstract. I didn't know how to draw or paint people or other things correctly. My art included a lot of photos in a more collage style – truthfully to "hide" the fact that I couldn't draw well. 
So, I had this need to create and I wanted to improve. But I was very self-conscious about my art! There was so much I didn't know how to do.
But just because I cringe at some of my old art doesn't mean it doesn't have a lot to teach me. Looking back at your old art can be extremely helpful, for several reasons:
When you feel frustrated with where you are at right now, it can help you put your progress into perspective and admit just how freaking far you've really come!
It can help you see some of the areas you struggled with and improved, and maybe some of the mistakes or bad habits that are still hanging on. (Which is cool because now you can work on those things).
You are reminded why you love art and what made you want to spend your time, effort, energy and money pursuing this dream of being an artist.
Looking Back Can Help You Move Forward!
In today's post, I will show you some of my old art. Even the cringy stuff!
Because we all start out somewhere. It may be helpful to see that every artist has to grow and evolve.
So if you are in the middle of wondering if your art is "good enough" or worth doing, never fear. We were all wondering the exact same things as we went through our art journeys . . . and remember . . .
Don't compare your beginning to someone else's middle or end! 
2011
Note: I apologize for the grainy quality of the next three photos. I must've had a bad camera or bad lighting! After all, these were taken about 10 years ago!
The painting below is from 2011. I had great fun doing the background and attaching all the ocean themed materials to the canvas board, but then . . . I got stuck. My idea came from the song In the Sea by America from the movie The Last Unicorn (1982). But I didn't know how to do the words or fish, so I just cut and pasted.
I was brave for the next painting and drew and painted a person loosely based on a photo of myself.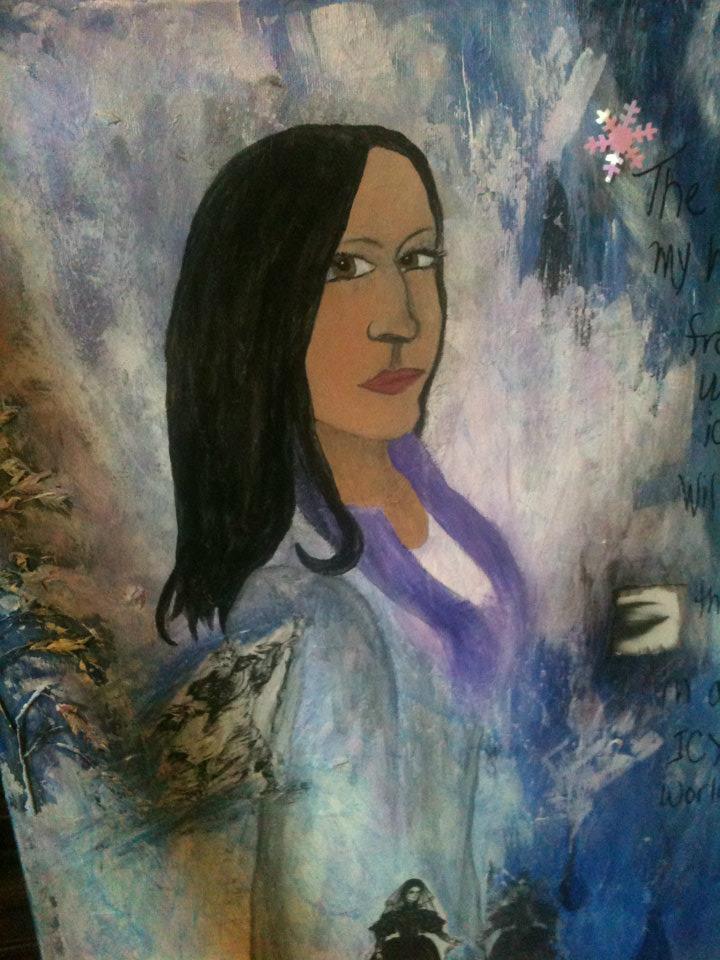 The La Vitae Amore painting below is a good example of most of my art from this time. I loved mixed media and putting materials on the canvas with words and colors, but I often got stuck after that.
This painting I actually finished and it hung in my bedroom for close to 8 years.
Many other paintings similar to this one were abandoned because once I got to a certain point, I didn't know what to do. They didn't feel finished but I was SO afraid if I tried to paint or draw on my background, I would ruin the whole thing!
2013
~ Side note about Art & Money~
I want to point out something that was a huge struggle for me for a long time (especially from about 2007-2013), that I feel like people don't talk about much –
art supplies are expensive.
For several years, I was a single mom and I simply couldn't afford much. Now, I think it's a little better with places like Hobby Lobby and Michael's having house brands where you can get a paint set or pad of paper for $5 or less but y'all . . .
When you're struggling to pay a high electricity bill in the South in summertime or trying to plan how much groceries you'll need because your kid will be home on vacation this week, art supplies are kind of the last thing on your mind. I think that's why I liked mixed media so much to start with. I had paper scraps, leftover scrapbook supplies and a small collection of "stuff" that I could use in my art and it didn't cost me a lot of money.
This was how I created art when I didn't have much extra to spend. Ok, back to the main point . . .
In 2013, I had been with my now fiancé for about a year, and I decided to paint a painting for him for Christmas. At the time, it was a big undertaking for me, since it included five portraits and a mini-portrait. Since I was very nervous about doing the faces, I took photographs, glued them down and painted on top of them. It was the only way I felt confident enough to "get it right" back then.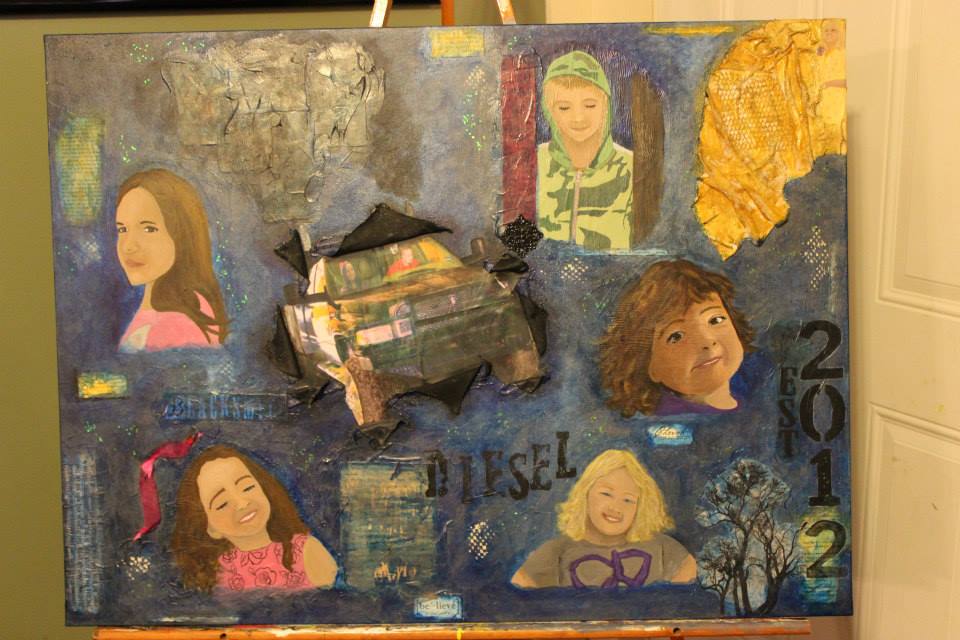 2015
I am sure I created some art in between 2013-2015, but I have a feeling it was pretty sporadic. There was a lot I started and never finished, mostly sketchbook stuff and some attempts at new artwork that I didn't have a lot of time to get back to. To be completely honest, these years had a lot of upheaval life-wise, and anyone who has tried to create with a lot of drama and stress going on knows how hard that can be.
It wasn't until around 2015 that I started to feel the call of art again, and the idea that I really wanted to take it seriously. Around this time, I did get on Etsy and did a commissioned shark painting, which I still am proud of. So I was taking baby steps back into art and still mostly trying to teach myself what to do.
Here is a canvas where I tried using a tree stencil I bought, and some hand lettering techniques:
Here is that commissioned shark painting I did:
Below is a page from my sketchbook in 2015. Cringe alert!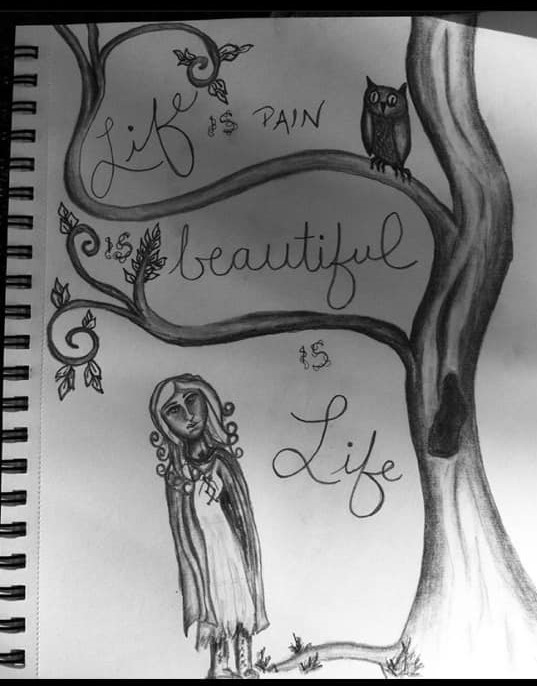 And here is the beginning of my skull obsession, which you'll see (#spoileralert) really takes a hold of me in 2016.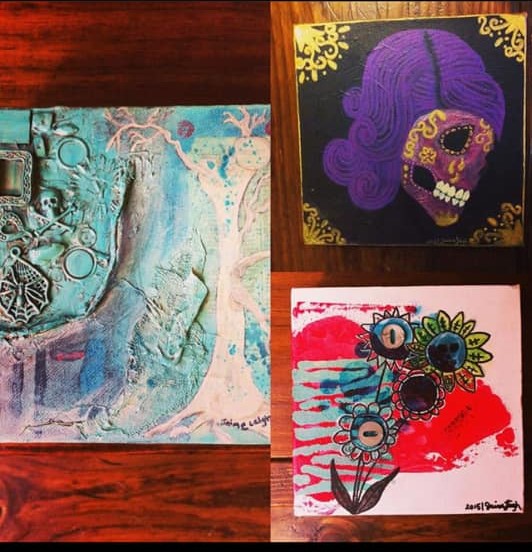 2016
If any year were to be the one that changed everything, I would say 2016, followed closely by 2018.
In 2016, life was still full of upheaval and drama (go figure). I won't go into too specific detail here, but suffice it to say that the year started with a bang: I received a court subpoena on New Year's Day for a custody issue, and we were already staring down another custody case for my fiancé to get joint custody of his two youngest children in January of 2016.
Yikes.
Where in the past, all the stress and anxiety would make me abandon art because (as I said above) it's kinda hard to focus on making creative things when life is a struggle – this time it was different.
Something about the overwhelming amount of things that were out of my control actually helped fuel me, and helped me take on my biggest project yet.
In February of 2016, I did a self-created project that I called "50 Skulls in 50 Days" or "Skulls for Macy & AJ" as a way to direct all my nervous anxiety through two back-to-back court cases.
I surprised the hell out of myself by actually following through: I completed 50 small paintings in 50 days!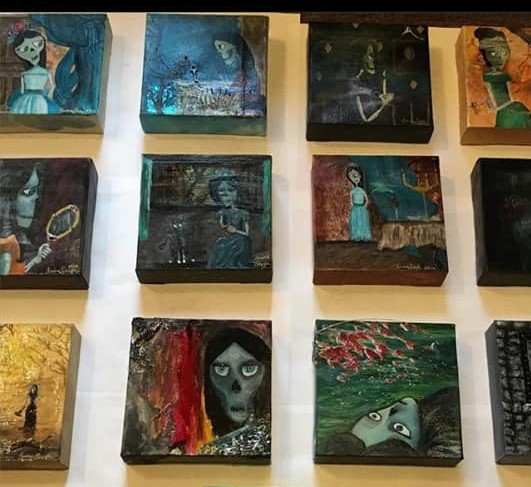 One thing that I really got out of the project was how much I learned about different kinds of art and it really showed up in how the paintings progressed as I went from day 1 to day 50: I got much looser and freer as I went along.
Here is day 6's painting:
As compared to day 45: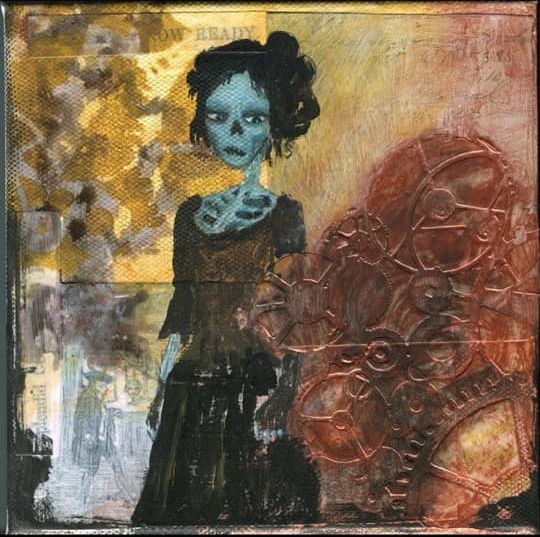 In addition to helping me learn I could complete things I started (a big deal for some of us!) and helping me learn a bunch of different mixed media styles and techniques, the project also got me to finally – finally! – take myself as an artist seriously.
After this, I began to take courses online to build my skills. I started to learn about different mixed media techniques. Most important, I learned how to draw portraits (granted, it was a very stylized way of drawing portraits as you'll see, but hey it got me going, and that's what mattered).
Here is some of the artwork I created during this time after I did my 50 skulls: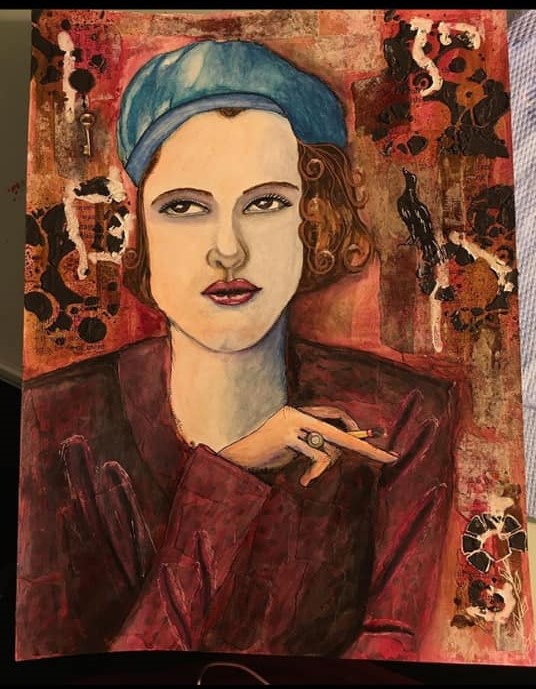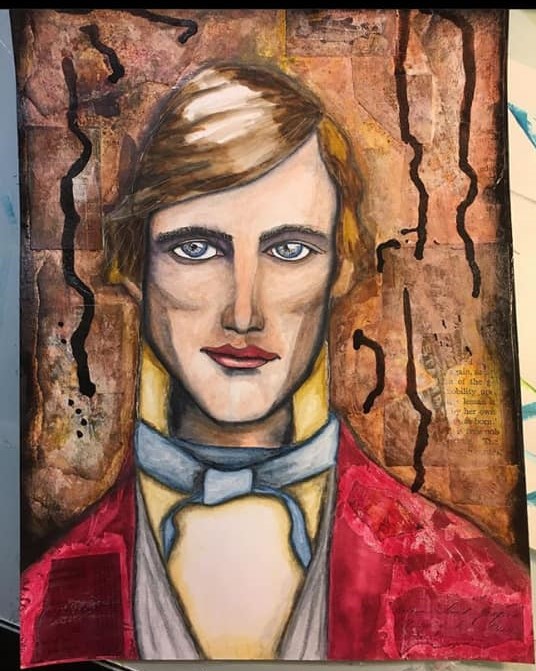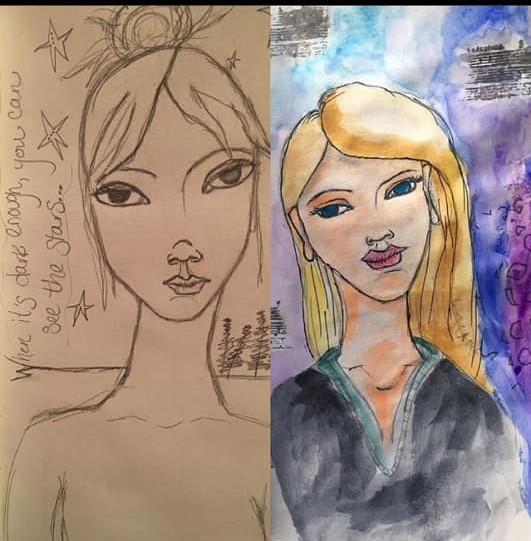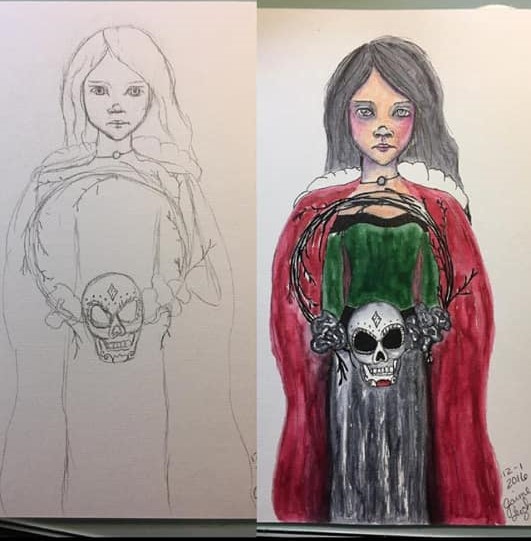 2017
By 2017, I knew one thing for sure: I loooooved faces.
I was so drawn to portraits and drawing or painting faces.
The problem?
I still had a lot of issues with correctly drawing a face. A lot of my work from this time shows me now that I really needed to learn perspective, correct face shape, symmetry, where to place the eyes, nose and lips, etc. Often, I would struggle with a mouth that was offset, eyes that were different sizes or on different levels, and how to make a face dimensional rather than flat. I didn't really understand how shading and different tones helped create a face.
I had the notion that it was the lines that mattered when creating a face – and I wonder how many others struggle with the same thing. But even thought I spent a lot of time drawing the different face parts, when it came to shading or painting, I struggled with feeling like my faces looked not real or cartoonish.
I had no idea why at the time, but looking back now, I can tell you exactly why! It wasn't the lines that were important! Nope, it all had to do with the dark and light areas, balanced out with the mid tones. It took me so long to understand this!
But at the time my brain knew something was off when I looked at my portraits – I just didn't have the answer as the what was really off. I wasn't really "seeing" my artwork. I might have painted a nose that was the same darkness as the cheek, so it made the nose not stick out like noses do. Or I didn't have a shadow where it was needed, so parts of the face looked flat, not rounded.
In 2020 – almost 4 years later, I finally understand this. I wish I could go back and tell my 2017 self to pay more attention to dark and light, but I had to go through that learning process to finally get it.
Here are some of the artwork I created in 2017 when I really got into portraits.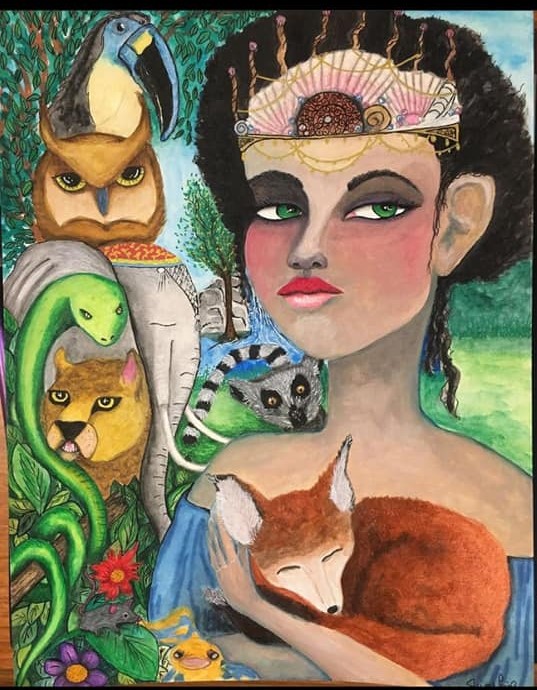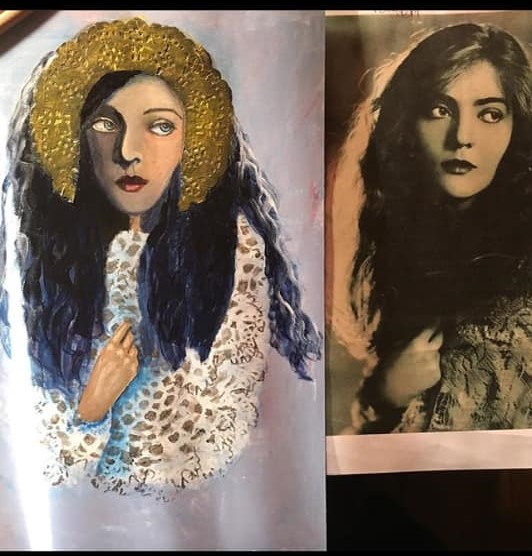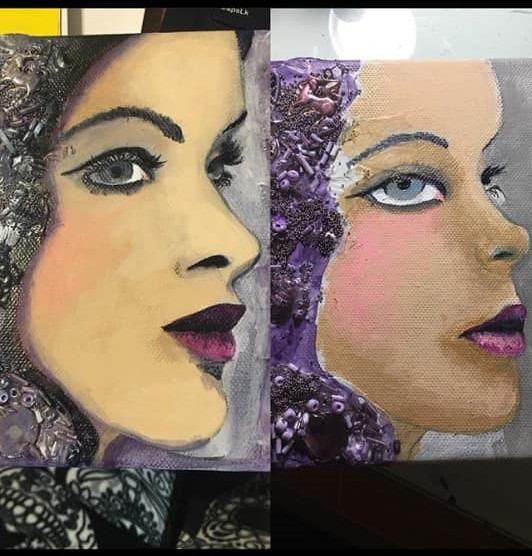 In 2017, I was proud of how far I'd come since 2012/13, and now I'm proud of how far I'd come since 2017!
The progress I've made since 2017 is owed mostly to finding an art mentor, and my art in the years from 2017-2020 improved in leaps and bounds. I hope it will show you how much you can learn and improve in as little as a few years.
A lot of it comes from finding the right kind of help and guidance. For example, I started using oil paint for the first time in 2018 and I have learned to paint with oils (a scary thing for me for years!) better than I was ever able to with acrylics. And in less time!
But if you want to know the real truth, I could never have gotten that help and attempted to use oils if I hadn't been making all that old art.
Especially since it took everything I had to be able to show my art mentor photos of my work. I had to get past thoughts of "am I a real artist?" and "what if he hates my artwork?"
No matter what point you are at with art or any other hobby (or even a life situation), it never hurts to remember where you started. Only then can you can see how far you've come. Especially if you struggle with "am I good enough?" or bouts of depression or feeling anxious (as I do). It really helps as a reminder to yourself that you've made great progress so far!
As always, thanks for reading! I hope this post was useful to you, whether you're just starting out or you've been doing this for a while.
For other mixed media art thoughts, check out Is Mixed Media Art REAL Art?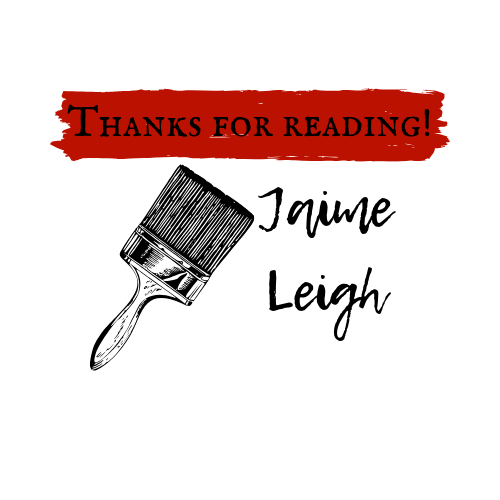 Latest posts by Jaime Leigh
(see all)