Mixed Media Art Surfaces are the Foundation
Let's take a trip (In our favorite rocket ship?)
If you know the song above, I am so sorry. That was no way to make a good first impression. Now that Little Einstein's song will be on repeat in your head ALL day.
Let me start over.
Do you remember your favorite things to do when you were a kid? Was it playing outside? Playing epic make believe with your friends? Or were you more of a sit quietly with paper, crayons, glue and glitter type kid?
If the last one was you, hi! We might be best friends!
Don't get me wrong, I loved playing outside and make believe. But I loved art more. Even though I don't play freeze tag at dusk or orchestrate an entire Barbie and Ken soap opera complete with items I stole from the kitchen and my mom's sewing basket anymore . . . I have never stopped loving art.
In fact, I still work on my "art projects" every single day in my home art studio, which used to be the dining room.
Little kid me would be so stoked.
Specifically, I work in an art style called mixed media art.
Basically, mixed media art is when an artist uses different surfaces, materials and mediums together on one artwork.
It was started as an art movement back in 1911 with Pablo Picasso (you may have heard of him) and his artist friend Georges Braques. They both experimented with gluing or attaching paper and other materials to a canvas or paper and started calling it "collage."
Since then, you may have noticed that mixed media art is everywhere. (Not to be confused with multimedia art, which is art done with music, video, dance, and other not-necessarily visual components).
Side note: Art journals, stamping, and even scrapbooks are common places to find mixed media art. My focus as an artist is on combining more traditional oil or acrylic painting techniques on canvas or wood panels to create mixed media art works, so this website will focus more on the "fine art" side of things. If you are interested in using mixed media art techniques to do journaling, scrapbooking, making altered art, etc., there are tons of resources online to get you going.
Getting Started with Mixed Media Art
The most basic things you need to get started creating are:
surfaces to create on
materials to create with
a place to work
If you're on a budget and have limited time or space, you can still make mixed media art. You just might not have as much "stuff" to use, and that's perfectly fine.
In today's post, we will look at some good mixed media art surface options to create on.
Surfaces to Create On
The cool thing about the mixed media style of art is that you can make art on almost any surface. The easiest and most basic would be a heavier art paper or a canvas/canvas panel. These two items are available most anywhere and are usually under $10 if you live in the States.
If you are interested in a unique mixed media art surface to make your art on, here is a list of other surfaces you can buy or find:
Wood panel
Reclaimed piece of wood
Fabric
Cardboard
Journal or sketchbook
Old book page/old book
Photograph
Piece of Metal
Obviously, some surfaces are going to be easier to work on than others, but it all depends on what type of art you see yourself doing.
Personally, I like to use watercolor paper, stretched canvas, or canvas panels. All three are affordable and you can usually find good deals on multipacks of the stretched canvas or canvas panels.
Watercolor paper – If I'm going to do art on paper, I generally choose watercolor paper because it is thick and can support the weight of me gluing stuff to it. Watercolor paper usually comes in pads of 12 or more sheets, and the cover of the paper pad lists the weight of the paper. 140 lb is a good weight, it means the paper is pretty thick and sturdy. If you get other weights, the paper might be too flimsy for mixed media.
Also, most watercolor paper will be "cold pressed." This means the surface has a texture to it instead of being completely smooth. If you're doing mixed media art (and since you're here, I assume you are!) cold pressed will work just fine. There are also "hot pressed" watercolor papers, which are very smooth. If this is more your preference, Fabriano has a good hot pressed watercolor paper pad.
For my cold pressed watercolor paper, I like the Canson XL paper: you can find it most everywhere and it's very affordable. There are many other brands –  Arteza, Strathmore, Arches, to name a few – just make sure you read the outside of the pad for information on the size, weight and style of the paper you're buying.
Canvas Panels – A canvas panel is just what you would think: a hard, flat board wrapped in canvas. These are great for doing mixed media and can be bought in multi-packs for an affordable price. Because they are a hard surface, they are great for heavier mixed media pieces because they will support the weight of whatever you are attaching to the panel better than some stretched canvases. Just be aware that some cheap panels have cheap canvas that is very textured and could be frustrating to work on if you were expecting a smooth surface.
Stretched canvas – This is a piece of canvas stretched over a wood frame and stapled to the back of the frame. Usually the canvases you buy at the art store (or even Walmart) are already "primed," not just a raw piece of canvas. That means the canvas fabric is coated in gesso, a white paint mixture that makes the canvas hard and ready for paint.
You can also make your own stretched canvas if you like to DIY. You just need four pieces of wood, canvas, staples and gesso. Info on how to make your own can be found online and on YouTube.
To get started doing your own mixed media art work, the above surfaces should work just fine for you. Remember that found items (like reclaimed wood and old books) and other materials like fabric or metal will make interesting and unique art pieces,  but you may have to test and experiment a bit more.
If you would like to jump right in and get started creating, the canvas or paper will be the simplest and most widely available surfaces.
In the next post, we will tackle the "materials to create with."
See you then!
Interested in more posts about the basics of mixed media art? Check out Getting Started with Mixed Media Art, Part 2: Materials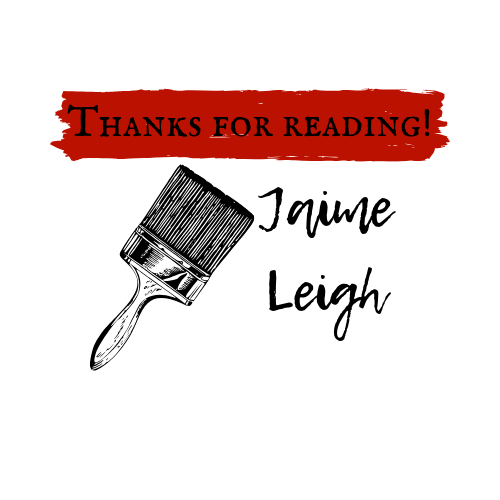 Latest posts by Jaime Leigh
(see all)