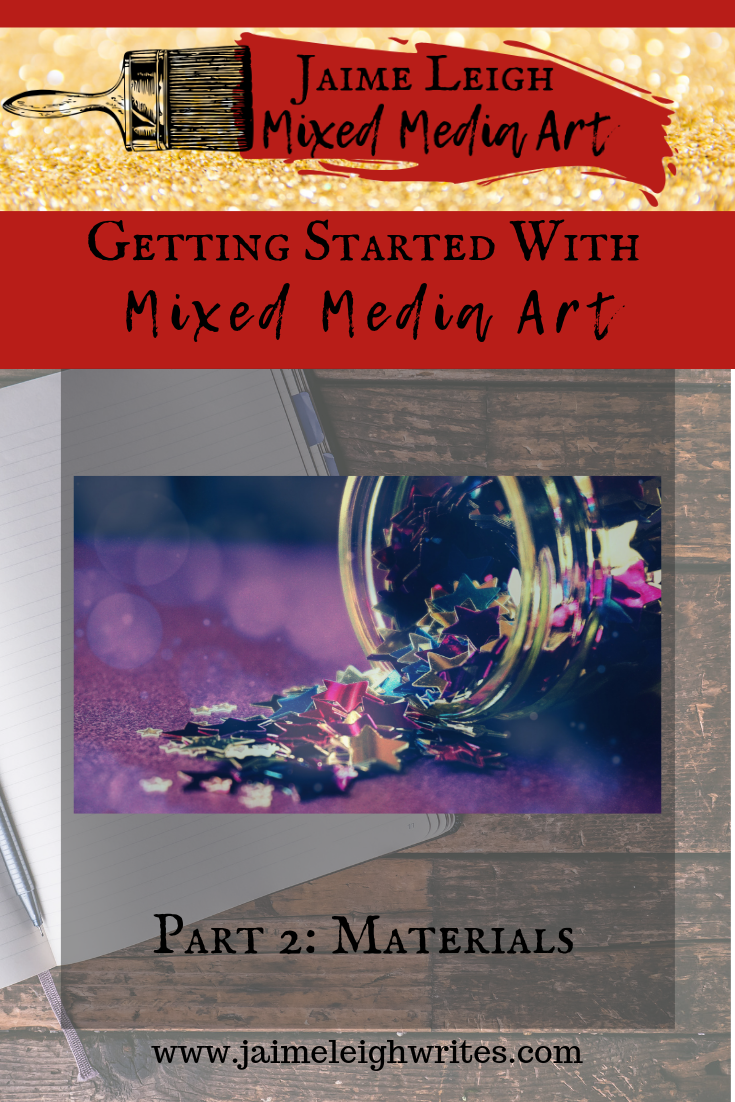 Let me run a few words by you:
Glitter
Shiny things
Embellishments
Do these words make your heart happy?
If they do, you're in the right place!
In today's blog post, we will talk about the materials you can use to make mixed media art.
To paraphrase the famous words of Will Farrell in Elf,
It's My Favorite!!
Using Materials in Your Mixed Media Art
I am not exaggerating when I say that you can quite literally use almost anything in your mixed media paintings! Art supplies, craft supplies, odd bits and pieces, natural items, found objects – the list is endless.
So what do I mean when I talk about using materials in your paintings?
Well, it means that one of the cool things about creating mixed media art is that you aren't limited to just paint. If you want to use paint on your canvas – awesome! But you can let your creativity take over and glue or attach other items to your surface –  either before adding paint or after. I've done paintings both ways, and really liked the process either way.
Side note: if you paint after putting textured materials on your painting surface, just know that you'll have to figure out how to either incorporate the texture into your art or work around it. It can be done, for sure – it just sometimes requires extra thought.
To start with, I will talk about the most common item you can use to put on your art surface, and then I will give you a list of ideas for other materials.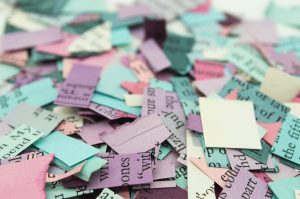 Paper
By far the most popular material to use is paper. I mostly use scrapbook paper and vintage paper from old books and other items.
Scrapbook paper is great to use because it comes in different textures, thicknesses, patterns and finishes. You can buy a few small scrapbook pads and have enough paper for the rest of your life, probably! Or, if you're working on a painting with a specific theme or color in mind, you can purchase individual sheets at the art supply store just for that one artwork.
In my specific process, I always put paper down first. You don't have to do it this way, but I've found that this flow works best for me. As always, experiment and see what works for you. I also prefer to tear my paper rather than cut it with scissors. I like the torn edges and how it allows me to better work the papers into the background of my paintings.
If you are going for a specific look with your papers, by all means cut them into squares, circles, stars . . . whatever your imagination decides.
You are not limited to scrapbook paper, either. Here are some other papers I've used:
tissue paper
wrapping paper
vintage office paperwork
pages from magazines and newspapers
old postcards
notebook paper
wallpaper
old sheet music
handwritten letters and cards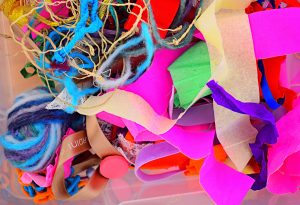 Other Materials
Once my paper is glued down and dried, I like to do a layer of paint/ink/gesso/watercolor, depending on the painting I am working on. You can do a different order if you like – applying paper and 3D materials, then finishing by applying paint or ink over that. Again, mixed media art allows for a lotttt of experimentation, which is part of what makes it so fun.
Here is a list of other materials I use on my art surface. Some I purchase, and some are items that are around the house. Others I have literally found on the street or out in nature. The possibilities are pretty endless.
Sewing accessories: buttons, fabric, ribbon and old notions
Craft items – just wander around your nearest art store or section and you'll see all kinds of fun items
Kid's craft items. Don't discount popsicle sticks and pipe cleaners!
The scrapbook section of your art store. You aren't limited to just scrapbook paper. There are so many supplies today to use for scrapbooking, you might be a little overwhelmed. Paper flowers, metal accents, ribbon, washi tape, and die cuts are just a few ideas
Stencils
Stamps and inkpads
Jewelry and charms.
Vintage and secondhand store items
Nature: shells, leaves, wood, insects, rocks, shark teeth, dried flowers.
Hardware such as screws, bolts, washers, etc.
Parts of broken items (watch or clock parts, springs, gears)
Old books and magazines
Rusted metal pieces
Beads
Glitter
Sequins
Chain, rope, twine
Clay and polymer clay
Gold leaf
I have been collecting art materials for over 10 years now, and since I work on art daily, I have a dedicated room (home studio) where my stuff lives. You don't have to be that fancy. Some plastic containers or craft jars are plenty to get you going. I do suggest having some sort of place to store your mixed media items, since if you're not careful they'll take over the whole house.
Now that you have some supplies you may be wondering how to attach them to your art surface. Don't worry, I've got you covered! Head on over to this post for all the info you'll need on the right glues for the right materials.
Also, if you're interested in my art process for a mixed media painting step by step, check out my Mixed Media Art Tutorial.
That's it for mixed media art materials! I hope you got some great ideas for things you can use (maybe some that are just lying around your house!)
If you have any question or comments, please feel free to share below. Also, I'd love to see any creations you've made – feel free to share a photo. Finally, my favorite items (besides glitter, duh) that I've ever used on paintings are items my kids bring me. They're constantly finding and bringing home "stuff" just for my art. I've had moths, snakeskins, dropped coins and parts of jewelry, butterflies and cicada shells land on my art desk over the years!
To me, it gives those artworks just a little bit more meaning because my kids were able to contribute. Do you have a favorite item you've used in your art? Please leave a comment – I'd love to hear from you.
Need more mixed media art info? Check out Part 1 of this series, all about your starting point – your art surface: Getting Started With Mixed Media Art: What Surface to Use?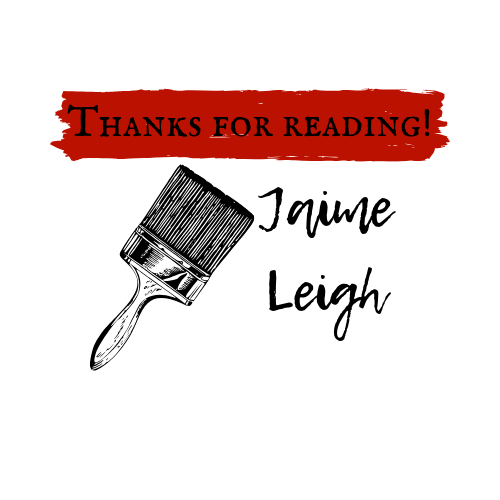 Photos Used:
Craft Materials Photo by Chris Barbalis on Unsplash
Pile of Paper Photo by Mel Poole on Unsplash
Latest posts by Jaime Leigh
(see all)