10 Inspiring Instagram Artists to Follow
I love Instagram for two reasons:
I post my in progress and completed art on there, so by now it's become a record of my skills improving. Just a quick few scrolls down on my own Instagram page and I can see how far I've come in the past several years. This is especially helpful when I'm feeling frustrated or down.
I can get inspired quickly since I follow a lot of Instagram artist accounts. Even if I don't do work that is similar – I find it helpful to scroll through my feed because many of the people I follow are posting inspiration or struggles they are having, and it's so helpful to know I am not alone.
Since I have many accounts I like to follow for inspiration or a pick-me-up, I thought I would share them with you. These are some inspiring Instagram artists I follow because I love their style, their journey, or because their encouraging or humorous posts speak to me. Here they are, in no particular order:

Not only are Ashley's posts encouraging, they're also hilarious. She talks about her journey and her process, but also about her roots of coming from nowhere to become incredibly successful. She has a gallery in New Orleans and also shows her work all over the world and collabs with big name brands (Bergdorf Goodman, anyone? Maybelline?) Right now she has a collection of woman-empowering work up at the DVF Studio in New York City – that's Diane von Furstenberg, by the way.
Ashley has an extreme potty mouth and likes to share inappropriate things. Which I love. But if that's not your thing, she does have a more PC account @ashleylongshoreworld.
I have several of Camilla D'Errico's art books. She is the one who got me into using water mixable oil paints for my paintings (that's what she uses and recommends). She shares lots of progress photos and videos of her painting process. Also, she does Expos and Comic Con and posts lots of photos from her booths.
Side note -she also owns a French Bulldog named Loki, and I own a Frenchie named Stella, so we're practically twins. 🙂  #winning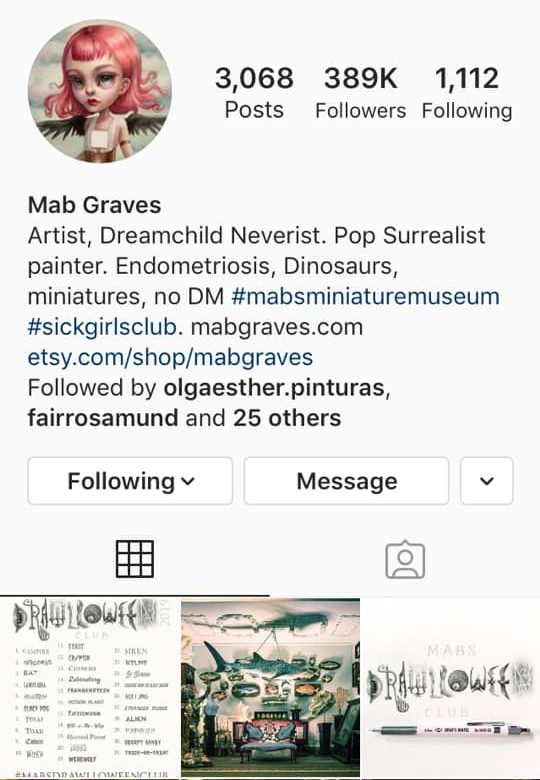 I think Mab is in the dictionary under inspiring Instagram artists! I've been following Mab for a while and did one round of her insanely popular Drawlloween Club, where she invites anyone of any age and ability to participate in her October daily drawing challenge. She is a phenomenal artist, but the real reason I follow is because she is quite possibly the nicest, most compassionate human on the planet.
I have read her responses to comments on her posts, and she is the ultimate "how to handle interacting on social media" goals. She might be a literal angel, I don't know how she does it. Her posts often discuss her years-long struggle with Endometriosis, too, and she offers inspiration and hope with her #sickgirlsclub hashtag.
Regina is just a flat out fantastic artist. I first started following because her realistic oil paintings blew me away! I also love how darkly strange they are. It's right up my alley. Her people are photorealistic. She includes almost macabre elements in many of her works, which I am completely drawn to. So, what's not to love?
I have seen many of her paintings where she combines realistic portraits of people with a dressmaker's dummy or mannequin in a surreal and slightly disturbing way. They are completely fascinating!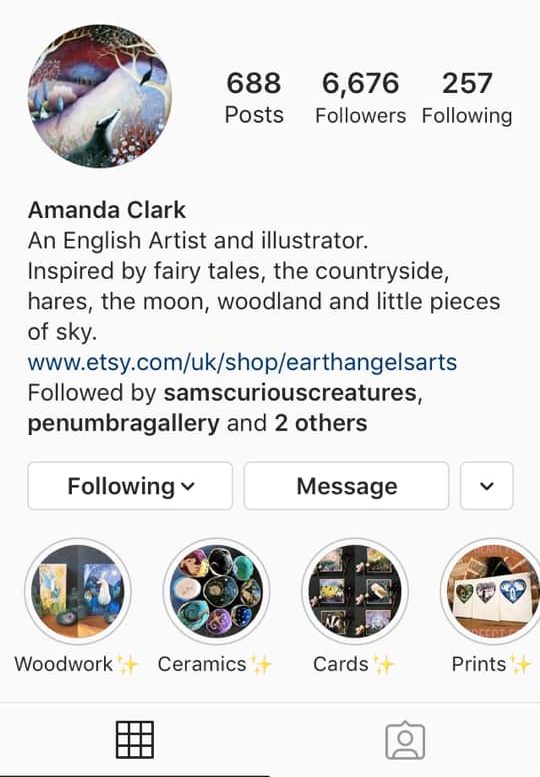 Amanda's paintings feature nature and its creatures in the most amazing way. Her bunnies, owls, foxes, deer and other creatures seem to glow, and her layered landscapes are just amazing.
Just the right mix of folksy and dreamy. Each painting is also fantastically colorful, and many also feature hand decorated gold leafing. So beautiful!
Annie paints beautiful, mythical oil paintings of graceful ladies, dragons, and other mythical creatures. If I had seen them as a child, I would have thought I'd died and gone to heaven. She posts lots of short videos of her painting process, but even though you're seeing it on video, it still seems magical.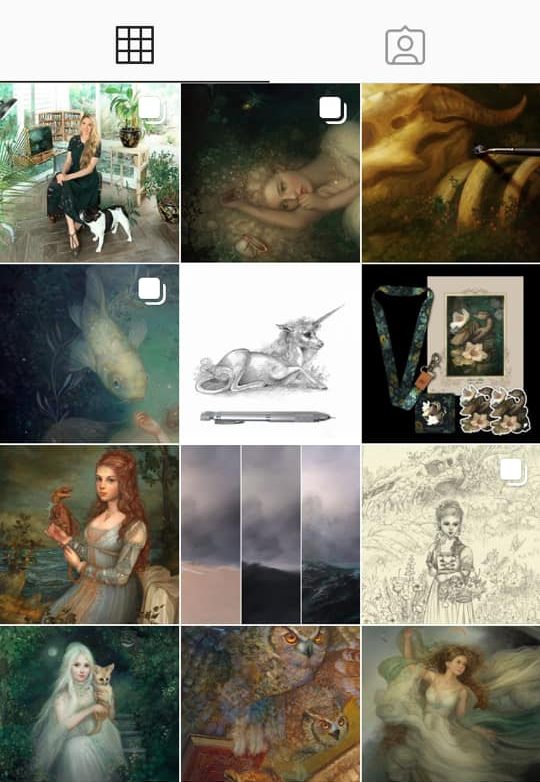 The skin on her women is so beautiful and realistic, any Instagram model would kill for it, even Photoshop can't create that!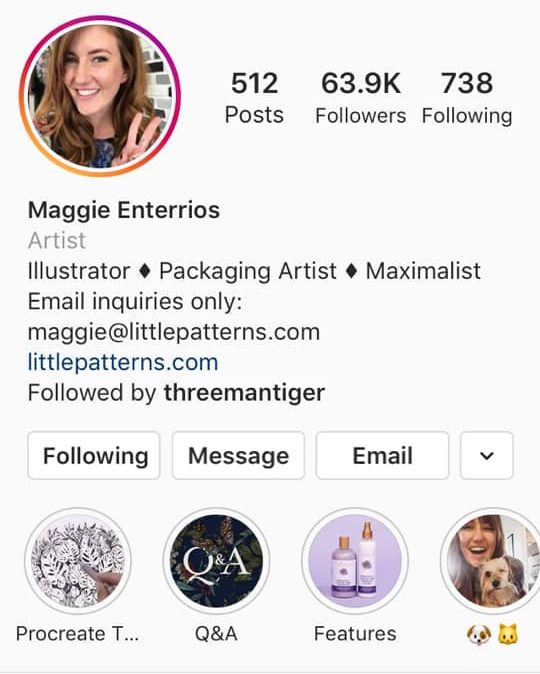 Maggie does the most amazing hand lettered artwork. She shares process photos and videos of her process. The lettering she does is a combination of hand drawn and computerized. It's all completely awe inspiring. The first work I saw of hers was a skull surrounded by leaves and flowers that made my heart skip a beat.
She works on packaging designs too, so chances are if you've seen packaging with amazing hand lettering with intricate floral artwork, its hers!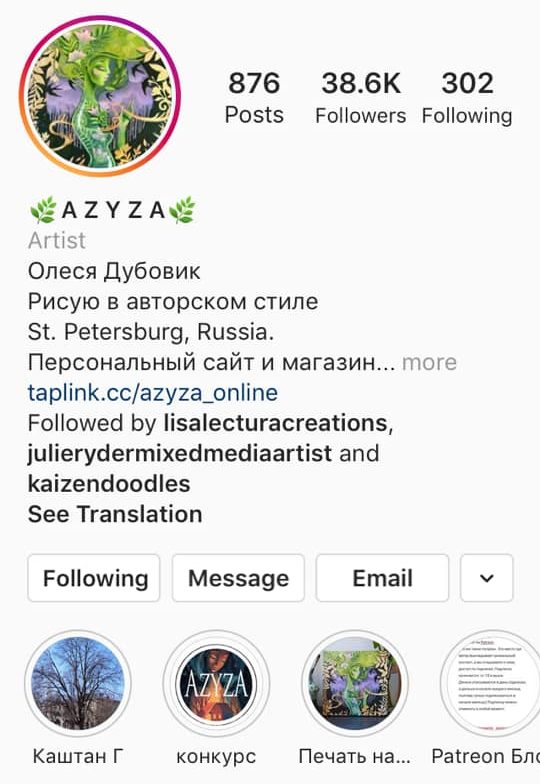 Azyza is a Russian artist who does absolutely amazing stylized portraits (many of females and couples) with cutouts and masked backgrounds. They are very intricate and beautiful. She also shares lots of videos of her process that are fascinating to watch. Prepare to be totally sucked in!
Many of her posts are in Russian but it doesn't matter – the art speaks to you no matter what your language actually is!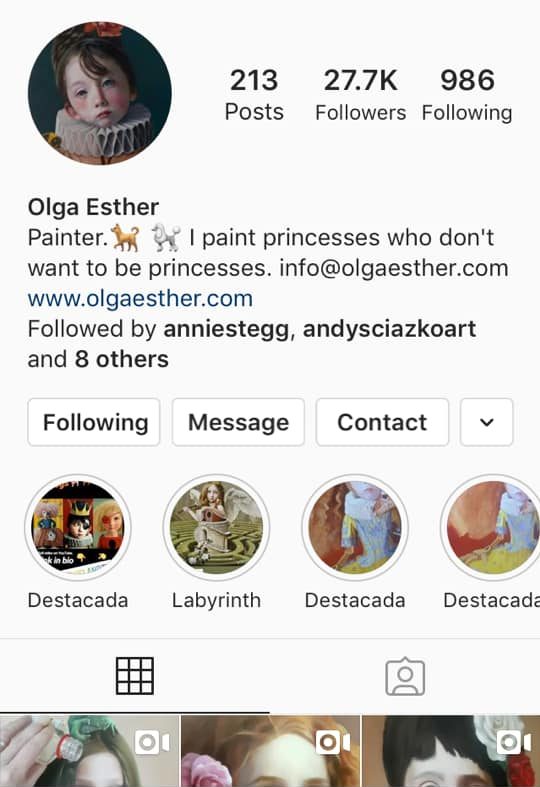 Her profile says she paints portraits of princesses who don't want to be princesses. Her paintings of somber little girls are definitely that, but also so much more. The petulant little kid in me loves them, and the artist in me is in awe of the gorgeous details!
These definitely fit into the "big-eyed" style of paintings, but there's something about these children that capture your attention right away. Plus, her technique and skill is fantastic.
Thomas paints larger than life murals in Denver, CO and elsewhere in the USA, and also smaller paintings, but it's his amazing colorful technique that stands out for me. He makes amazing portraits using bright pops of color as part of the skin tone that are really unique and amazing. He also is incredibly generous with advice and inspiration in his posts. His regular Art Tip Tuesday videos are helpful and encouraging to artists.
Like Mab Graves above, his positive attitude and interactions in the comments are admirable. He definitely does social media right!
I hope you enjoyed this list of Instagram artists I find inspiring. Please go check out their accounts, you won't regret it! Do you have any suggestions for me? I am always on the lookout for amazing artists to follow, so if you have a suggestion not on this list, please leave a comment below.
If you're interested in more inspiration, check out my post 5 Artists From History Who Will Inspire Your Art to see my suggestions for some art history that you can incorporate into your mixed media art!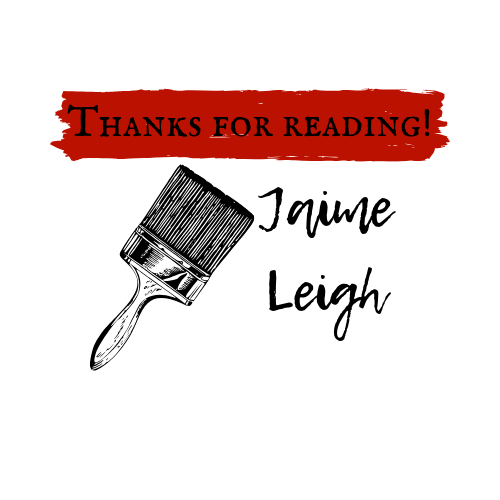 Latest posts by Jaime Leigh
(see all)