Hello, my fellow macabre art enthusiasts! 🦇 Are you ready to embark on a spine-tingling journey into the world of mixed media art? If you've got a passion for the eerie and a love for the mysterious, you're in for a treat. Today, we're going to dive headfirst into the enchanting world of mixed media art using a coffin-shaped base, paint, glitter, and other assorted items to create spine-chilling works of art that would make even Dracula himself green with envy. So, grab your paintbrushes, your glitter stash, and your sense of adventure so we can bring the macabre to life!
The Coffin-Shaped Canvas: Setting the Stage for Spooktacular Art
Our journey begins with the most spine-tingling of canvases—a wooden coffin shape. This unique base sets the stage for our horror-themed masterpiece. You can find coffin-shaped canvases at Michael's craft store starting around August-September in the United States or you can search on Amazon year-round. If you're feeling especially adventurous, you could even craft your own from a sturdy piece of wood, if you prefer just doing a flat coffin shaped piece of wood. (Either will work fine, but I will show you here how to decorate a coffin that opens and has hinges and a clasp, so if you'd like to do that style, there will be more to it than just a shaped piece of wood). If you are handy with wood, you may prefer to make your own – it will definitely be more unique and personalized. It's like Dr. Frankenstein's laboratory, only with fewer lightning bolts and more glitter!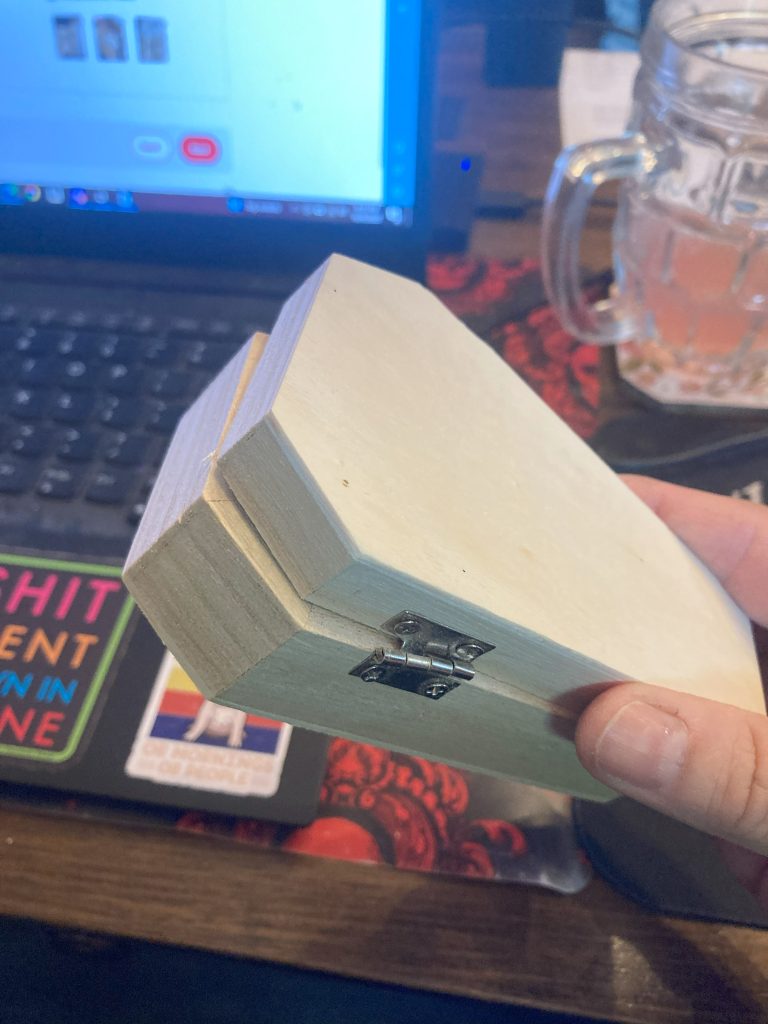 The Story Behind the Coffin
So you might wonder how in the heck I came up with the idea to make decorated coffins? Don't worry, I'm about to tell you. Back in July/August, I was planning what I would be offering at an upcoming fair I had signed up for. A town near me planned to have an Oktoberfest street fair, with vendors offered the opportunity to sign up for 10×10 booths. I have pleanty of paintings on hand, but in my experience as a vendor in public fairs and exhibitions, people don't come to these looking to walk away with paitings that cost several hundred dollars. $20-50 seems to be the max people have to sepend on a day like that, so I knew I would need to offer some smaller unique items. I decided to head to Michael's craft store, since in my area my two options are Michael's and Hobby Lobby, and since the show was in October (leading to Halloween) and I am a darker more gothic themed artist, I opted for Michael's since that carry a large selection of Halloween themed items every year. I was fortunate since my visit was timed perfectly with Michael's putting out this years Halloween items. Many of their DIY items were wood laser cut or cfaft items like skulls, signs, etc. But one thing that caught my eye were small openable coffins. I picked up two and took them home to see what I could come up with.
To my surprise, I had a great time coming up with coffin ideas and creating these tiny macabre art creations. I ended up going back to Michael's twice more to pick up coffins (as they luckily also increasingly went on sale) and ended up making a total of eight coffins by the time the Oktoberfest event rolled around. What follows is the process I used to come up with ideas and bring my deathly visions "to life!" Heh heh, get it?
The Dark Palette: Planning the Nightmarish Backdrop
Once you've got your coffin-shaped canvas, it's time to unleash your inner artist. Choose a color palette that sends shivers down your spine. Deep blacks, eerie purples, blood-reds, and mossy greens work wonders in creating that haunted ambiance. Don't be afraid to mix and blend these colors to create a gradient effect. This is your haunted forest, your desolate cemetery—paint it to life!
In order to come up with the way I plan to decorate the coffin, I use a couple different starting points that include colors as an important consideration along the way:
1. Pick a theme. With this, the possibilities are endless! You can look to books, movies, music, seasons, characters, etc, etc. For a traditional Halloween coffin, your theme could be ghosts, werewolves, Dracula, mummies, spiders and more. Movies? Any scary or horror movie from the cute (Hocus Pocus) to the terrifying (Friday the 13th). It's up to your personal preference here. Books can range from children's stories to Stephen King. If you're not into the scarier side, picking a more traditional fall or October seasonal theme might work for you (think pumpkins and autumn leaves). I love using music as a starting theme for many of my art ideas, and again this can work great depending on your personal taste in music. Maybe the line from a song inspires you or you can go with a favorite artist. If you are sticking with a Halloween subject, "Spooky, Scary Skeletons," or "The Monster Mash" might give you the perfect inspiration.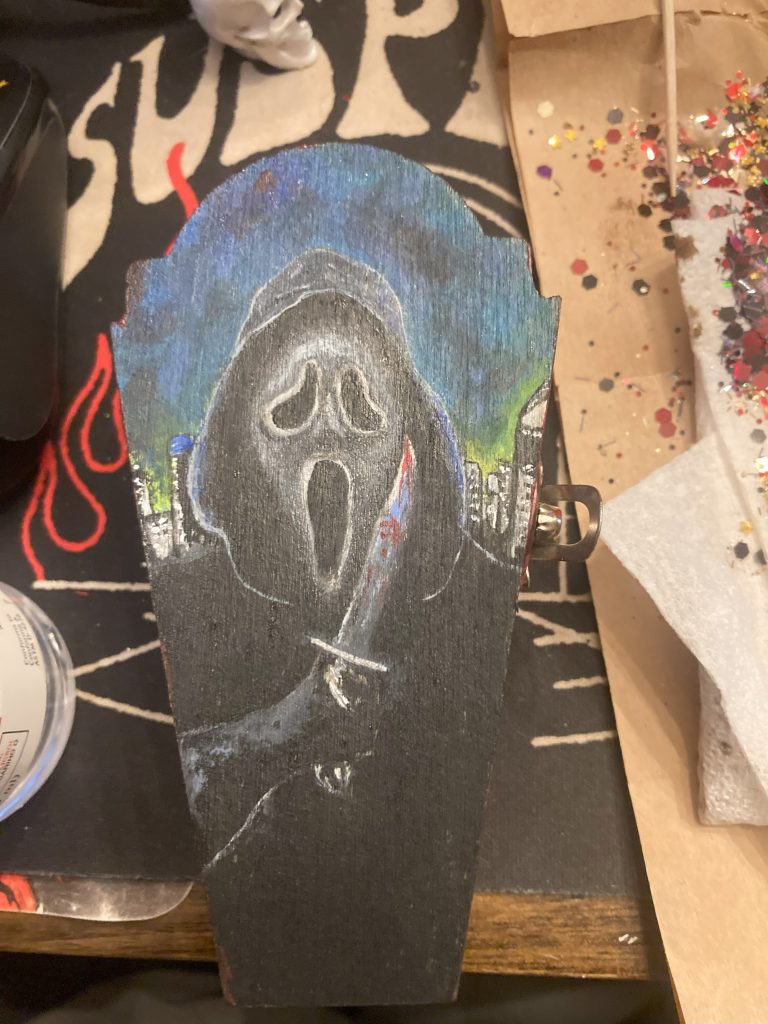 2. Start with a color or object. Another way I get ideas for starting out a project is to pick a particular color, or I may have one object in my stash (you do have a stash, don't you?) that I've been itching to use. I picked deep green as a starting point for one of my coffins, and I had a trinket I had picked up in the jewelry making section of Michael's that I had been wanting to use: a dragon's eye. Suddenly, I was off and running with a dragon themed coffin. The color really does enhance whatever theme you've chosen, so if you're choosing pumpkins, you know orange and green will probably make an appearance. Skeletons usually feature the use of black and white . . . you get the idea! If you do have a stash of mixed media supplies (beads, papers, stickers, etc.) it might be helpful to look through your collection and see what jumps out at you. One item could spark a whole idea.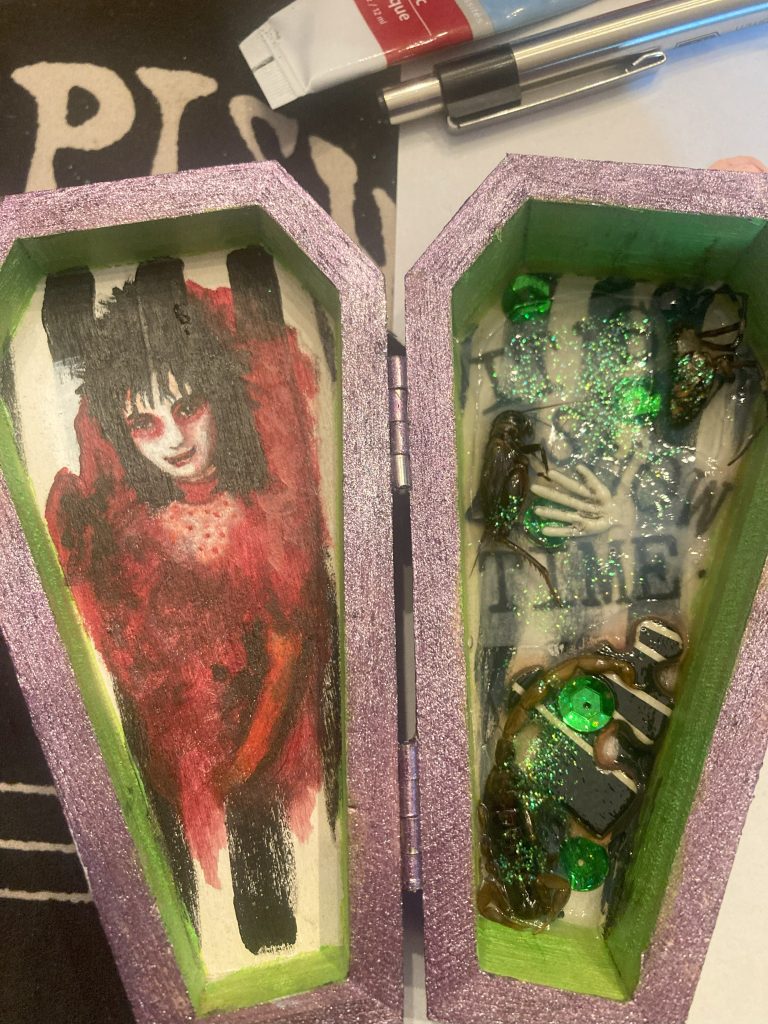 The Haunting Details: Adding Dimension and Character
Now that your idea is taking shape, it's time to add those spooky elements. Now is when you need to gather your supplies. You might have Halloween items like small plastic skeletons, miniature tombstones, or eerie miniatures of gothic architecture. Your mixed media pieces you grabbed like papers, beads, jewels, etc. should also be within reach. These add depth to your piece and tell a story of their own. Grab some glitter if you wish (I always do). Finally, you'll need a few practical items to complete your coffin: paintbrushes, super glue, Mod Podge, paint (acrylic is the easiest for projects like this), and some Super Heavy Gel.
Below is a full list of some items you can use for a project like this one:
*A wooden coffin shaped piece of wood or small wooden coffin that opens.
*Paint brushes and acrylic paints
*scrapbook papers (Halloween themed works great)
*scissors
*Adhesive (super glue, Mod Podge, Super Heavy Gel)
*Fabric
*Beads, jewels, gems
*Miniature Halloween decorations (bones, spiders, pumpkins, etc.)
*Stencils or letter stickers
Glittering Nightmares: Adding Sparkle to the Shadows
Every horror story has its moments of eerie beauty, and that's where glitter comes in. Take your favorite colors of glitter, from ghoulish greens to ghostly silver, and sprinkle them strategically on your canvas. The glitter represents the hidden magic and the lurking enchantment in the darkest of places. Use a clear adhesive to keep the glitter in place, ensuring it sparkles menacingly under the moonlight.
The Horror Unleashed: Unveiling Your Masterpiece
After hours of careful crafting, your mixed media masterpiece is ready to be revealed to the world! Hang it on your wall, place it on a haunted-themed altar, or even showcase it at your next Halloween party. Watch as your guests gasp in awe at your eerie creation and admire the ghastly ambiance it brings to your space.
Embrace Your Inner Ghoul
Creating mixed media art with a horror or gothic theme is a bewitching adventure that allows you to channel your inner ghoul and let your creativity run wild. The wooden coffin-shaped base, paint, glitter, and other spooky elements are your tools of enchantment, and together, they help you bring the eerie beauty of the supernatural to life.
So, my fellow spooky artists, what are you waiting for? Dive headfirst into the world of mixed media art and unleash your inner ghoul. Who knows what dark and mysterious creations you'll conjure up next? Embrace the darkness, and remember, there's beauty even in the shadows. Happy crafting! 🌙🖤
Latest posts by Jaime Leigh
(see all)