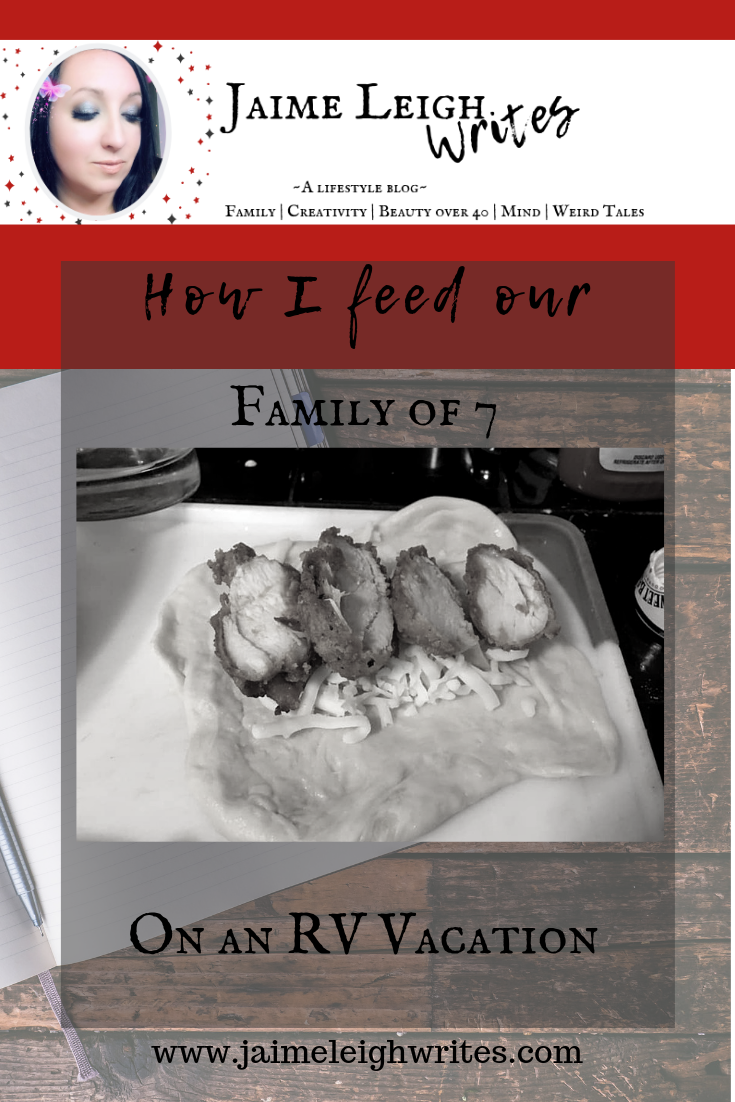 It was a fairly warm night for February, and dusk had already almost turned to night when I first saw her and – crazy, I know – fell in love.
She was parked parallel to the road and the owners had turned on all the lights, so as we rounded the corner, I thought she glowed like a Christmas tree. That day took all our savings and some borrowed money we had to pay back, but we drove her home – all 40 feet of her – and our lives as RV campers began.
From No Camping to Camping Aficionados
In February of 2014, we bought a 40 foot Allegro diesel pusher. At the time, I had never seen a camper so nice, much less had any dream of actually owning one. My family and I had camped growing up, but it was always tent camping until they bought a 5th wheel in 2004.
When Luke and I met, he didn't camp. At all. In fact, I specifically remember him saying, "Why – why – would anybody want to go sleep out in the woods without a TV?"
Since then, I've converted him. After an impromptu night spent camping with the kids using a flat trailer for sleeping, we started seriously discussing buying an RV.
When we took our Allegro home, she was too tall to fit in Luke's shop, and we literally had to take the ceiling down to fit her in there. Over the years, she's been jokingly known as the Roger Victor, the Jolly Roger, and the Jolly Rancher. She's faithfully taken us out of state, 1,400 miles to Maine, and down dirt roads.
We as a family have become master campers. We have loading up and unpacking down to a science. We've learned the ins and outs of a camper (driving her home from Texas that first night we were so clueless we thought the heater system was broken). It turns out we didn't know how to turn it on. We've repaired, maintained, improved and remodeled her. We even bought two other much smaller used campers for short weekend trips so we could keep our big girl in tip top shape.
Traveling to New Orleans in 2019
And now it's time for our yearly vacation. This year, we head to New Orleans for a week. She is packed and ready to go, and we are about to stuff seven of us (plus 3 dogs!) in the ole Jolly Rancher for the week.
We scrimp and save and plan and research for our trips. Traveling with 2 adults and 5 kids can get very expensive very quickly if we don't watch out. One of our main expenses on our vacations is food. We have tried several methods of meal planning for our vacations to made sure everyone is fed on a budget, including an ironclad meal schedule posted on the refrigerator the year we went to Hershey, PA.
It wasn't until 2017, when we embarked on our biggest trip yet, a 2 week round trip vacation from Arkansas to Maine and back, that we discovered our current meal solution to traveling with 5 kids.
Several days of the Maine trip would be spent driving, there was no way around that. But we also didn't want to stop a zillion times a day for every "I'm hungry." At home, we had been in the process of making sure all our leftovers were used up and not thrown out because nobody wanted to eat them. We accomplished this with leftover wraps.
Before a new meal could be cooked, all the leftovers had to be finished, and to make sure the kids ate them, I took to putting the leftovers in a homemade tortilla shell with cheese and/or sauce.
Vacation Meal Hack: Precooked Homemade Hot Pockets
When we were discussing our Maine trip, we had one of those lightbulb ideas: what if we took this wrap idea and ran with it? Before we left, we would make what were essentially homemade hot pockets, freeze them, and then thaw and heat them up as we drove.
The idea worked even better than we hoped. The kids loved the wraps, and they were as easy and simple as we had hoped as we were driving, and during the trip. And bonus: a wrap in tin foil made a great "drive & eat" situation for Luke. (He drives, I don't! Driving a 40 foot RV plus a 20 trailer with a vehicle on it scares the crap out  of me!)
The one unplanned snafu the first time we did this was that we lost some of the wraps by the end of the trip. We kept them in a large cooler packed with ice, bringing out one or two bags at a time to eat. Well, as we were enjoying our vacation, we got lazy about making sure the cooler was properly stocked with ice! Several of the wraps spoiled. This time around, keeping them fresh is a priority.
Hot Pockets and Wraps Can Be Customized to Your Family's Tastes!
So for the last week, I have been making and freezing wraps for our trip. I thought I'd share how I do them. The great thing about these is that you can customize them for pretty much any food style or preference. The can be stuffed with breakfast, lunch, dinner, veggies, even dessert! I plan to spend several nights cooking these wraps before the start of our trip. Plan to have freezer bags and a Sharpie on hand. After each batch is cooked, the pockets are cooled, put in freezer bags, labeled, and put in the freezer.
Here are the wraps we did for this trip:
Bacon, egg and cheese
Sausage, egg and cheese
Pancake and bacon
Pancake and sausage
Ham and cheese
Turkey and cheese
Taco
BBQ Beef and cheese
Pizza
Chicken alfredo
Chicken, bacon ranch
Buffalo chicken
How I Make Homemade Hot Pockets
For the actual wrap, any homemade tortilla recipe will probably be fine. Here is the one I used: Best Ever Homemade Tortillas from The Café Sucre Farine.com. The dough is easy to make and mixes up light and fluffy. It rolls out like a dream without being sticky at all, and can be pinched together to form a closed shell around the filling. This recipe is also really easy to double, triple and even quadruple and it still comes out the same.
I make my dough, pull out a handful and roll it into a ball. Then I flatten and roll into a flat tortilla. I stack all my ingredients on the dough and wrap the dough around, pinching it all together at the top. Then, I can pick up the whole thing and press it all together with my hand. This usually seals any little seams where cheese or liquid could seep out. (This still does happen on some, but overall they're pretty well sealed).
Once I fill a pan with little dough pockets and bake in the oven . . . voila: meals for a week of camping for seven people!
When it comes time to serve them on the RV, we just pop them in the microwave to heat them up after thawing them out. Then, they are served with fruit, vegetables, chips or condiments, depending on what meal it is. The kids can eat while we are driving, and it does not make a big mess.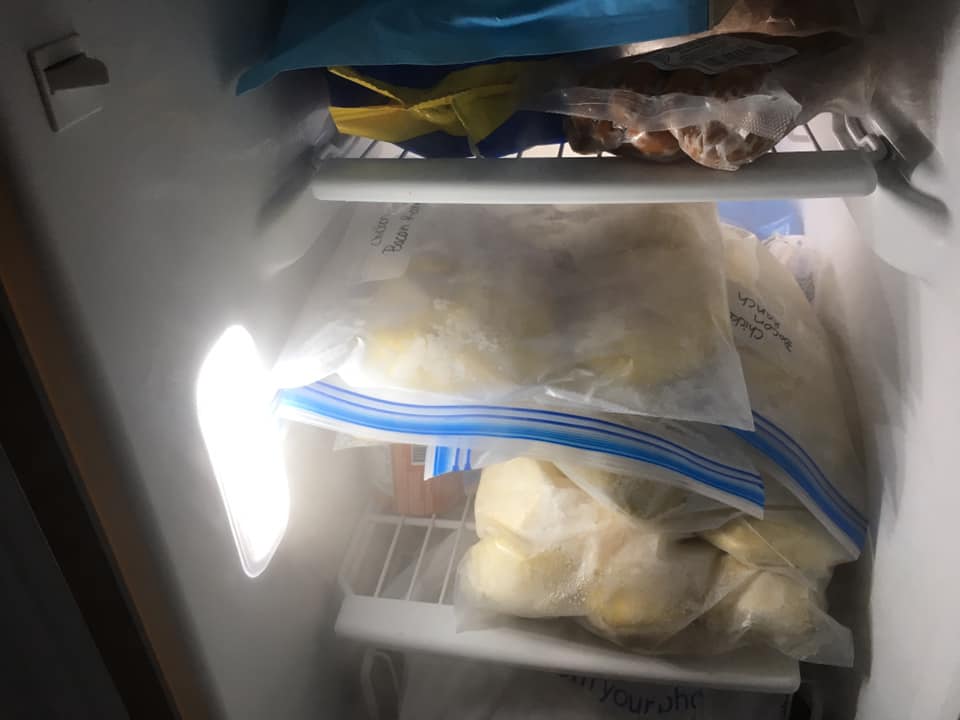 A Simple Budget and Kid Friendly Vacation Food!
I love that these pockets are quick, easy, versatile, and very simple to make. The only (minor) downside is that they are time consuming if you are making them for a bunch of people. That's why I planned to cook several batches over several days before we left on our trip. I could easily do 25-30 pockets a night or more, which included mixing batches of dough and precooking meats or sauces.
The best part (aside from having the ultimate grab-and-go food that's actually homemade) is that it frees us up to enjoy vacation and not spend the whole time cooking or spending gobs of money going out to eat each meal! (I mean, who can even!?)
What do you think? Would your family like travel hot pockets? Do you have a food hack for feeding a larger family on vacation? I'd love to hear from you below!